Chinnor Windmill is an historic flour mill that was originally built in 1789. It was demolished in 1967 for housing but fortunately many of the parts were stored, and the 'mill has steadily been rebuilt by a small group of dedicated volunteers.
Opens generally on the first and third Sundays of every month from 10.00 - 15.00 - but also open on certain other dates (or dates may change due to Bank Holidays) and for more details please take a look at Chinnor Windmill blogspot.
Visitors can talk with the restoration volunteers (who are an enthusiastic group of folks dedicated to their cause) and see inside and climb to the very top of the 'mill!
Directions from station - 18 min walk: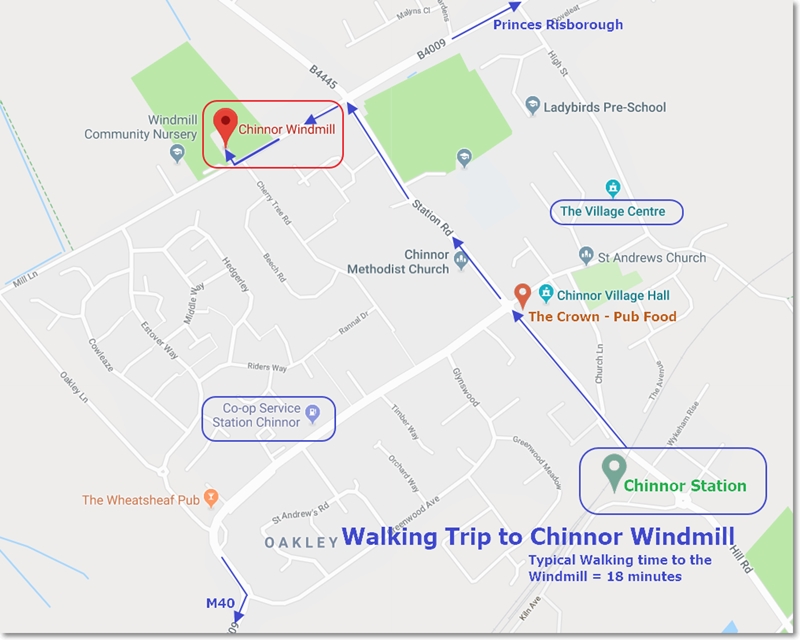 From Chinnor station entrance, turn left at the bus stop and walk through car park.
Cross road and turn left towards rail bridge.
Cross over railway bridge.
Proceed straight on over first crossroads.
Continue walking along Station Road and see various points of interest en-route (see below).
At second set of main crossroads, turn left onto Mill Lane.
Proceed along Mill Lane and turn right into the Windmill Compound.
Further points of interest (as you walk along and in order of distance from the station):
1: Chinnor Methodist Church (recently refurbished, situated on left hand side in between the two sets of cross roads).
2: The Old Forge (historic thatched roof residential house which was a forge long ago! The Old Forge is situated between the two sets of crossroads.)
3: The Four Ways (historic thatched roof residential house, one of the originals of Chinnor (is situated on the junction to Mill Lane, which is subsequently a crossroads - therefore it has four ways!).
You can find out more about the village on our Chinnor Village page.