Vintage Diesel - GALA CAB RIDES
From Friday 05 April until Sunday 07 April 2019, we will be raising the roof with another diesel spectacular! Join our diesel driver from an observer perspective on a cab journey that includes some arduous work by the loco including the 1 in 68 banks, and experience the thrill, sights and sounds, and the unmistakable roar of a vintage diesel locomotive. Unique photography opportunities too!
Below you can buy your all-day Rover ticket AND which includes a ONE-WAY cab ride (please choose from available time-slots shown), OR if you already hold a Rover ticket you can buy just the ONE-WAY cab ride.
Jamie our event organiser says updates from him will appear on our Facebook page from time to time and meanwhile this website entry is made available for the purposes of securing cab rides etc.

Subject to availability, the starting line-up includes our own locomotives, viz: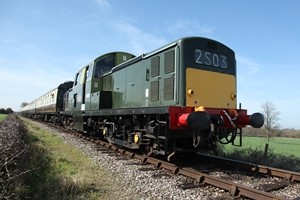 There will also be several cask ales from Loose Cannon Brewery on offer - we cannot have a diesel gala without a few fine beers - can we? Delicious!

Please note: there will be no steam locomotive running and only vintage diesels will operate over this weekend - therefore there will be no steam heating in our carriages, but should the weather be stacked against us... our Cambrian Café will be serving plenty of hot coffee and tea, plus hot bacon and sausage baps, all at our usual moderate catering prices!
If you are looking for something more to do whilst in Chinnor then see our guide 'Stroll Around Chinnor Village' which includes links to the Wee Bookshop and The Village Centre for food and drink, ditto Bar/Restaurant meals in local pubs, or say visit the Windmill (generally open first and third Sunday in the month) or the local Church, and the guide also lists other places that may be of interest.


TIMETABLE:
TRAINS WILL CALL TO PICK UP AND SET DOWN AT PRINCES RISBOROUGH PLATFORM 4.
PRICES FOR ALL-DAY ROVER TICKET & ONE-WAY CAB RIDE:
ROVER TICKET & ONE-WAY CAB RIDE

ONLY 1 PERSON ALLOWED IN CAB ON EACH TRIP

IN ADVANCE BY 20.00 ON

DAY BEFORE TRAVEL

ONLINE AGENCY

BOOKING FEE

Adult (16-59 yrs)

£32.50

£2 per complete booking

Senior (60+ yrs)

£31.50

Adult National Railcard holder#

£31.50

If you ALREADY HOLD a Rover ticket buy this

ONE-WAY Cab Ride add-on

£20.00
# Adult National Railcard - concession applies to the named holder(s) shown on your Railcard and the 'card must be shown on the day of travel.

Booking information
THE PARTICIPANT MUST:

Be aged over 18 years.
Be reasonably fit and in good health - fit enough to climb on and off the locomotive from ground level unaided, if required.
Wear old clothing that covers your arms and legs.
Wear sturdy shoes / boots that protect your feet - trainers are not permitted.
Not attend the ride / experience under the influence of alcohol or drugs.

Please note that the Chinnor & Princes Risborough Railway reserves the right to reschedule any Diesel Footplate Ride or refuse entry for whatever reason. There is a maximum of one participant per ride and no other guests are allowed on the footplate.
Book tickets
Fri 05 Apr 2019

SOLD OUT**
SOLD OUT**
SOLD OUT**
SOLD OUT**
SOLD OUT**
SOLD OUT**
Sat 06 Apr 2019

SOLD OUT**
SOLD OUT**
SOLD OUT**
Sun 07 Apr 2019

SOLD OUT**
SOLD OUT**
SOLD OUT**
SOLD OUT**
SOLD OUT**
SOLD OUT**
SOLD OUT**
SOLD OUT**
SOLD OUT**
SOLD OUT**
SOLD OUT**