The most amazing things for children to do in the run up to Christmas is to take a traditional steam train ride and visit Santa's Grotto, and of course share with Santa all the things they would like him to bring them on Christmas Day!
All trains will begin their journey at Princes Risborough Platform 4 (SatNav HP27 9DN) with Santa's Elves welcoming everyone onboard. On the journey John-the-Elf will be entertaining the children during the journey and the stewards will be handing out a puzzle to do together with 'Letters-to-Santa' which can be completed en route. We also have the boxcrazy ladies onboard the train with a variety of nimble craft projects that can be done on the journey for a modest additional cost.
Santa's steam train takes us onward to see the Great Man-in-Red in his enhanced Workshop and Grotto at his North Pole station, where we will halt-a-while for refreshments and a much anticipated visit to see Santa - chat to him and take some great photos for the album - and pick-up that important very first Christmas present!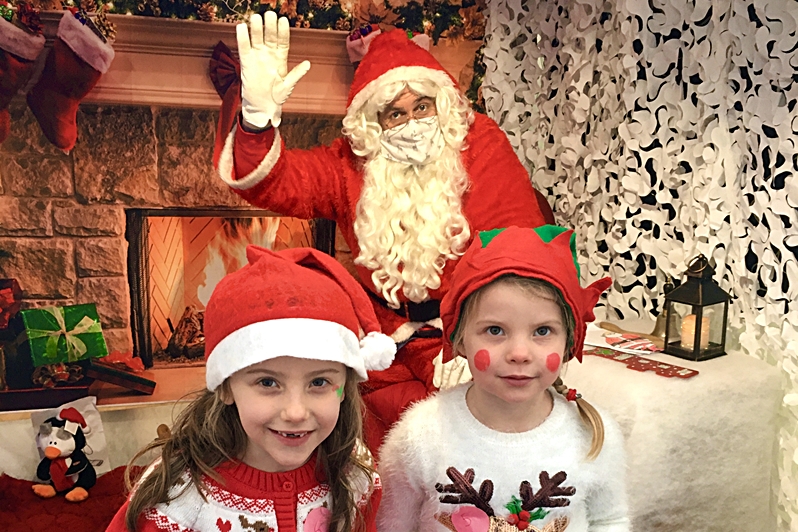 On the return journey the volunteers will pass through the carriages to ensure all the young folks are pleased with their first presents. The whole experience from leaving Princes Risborough Platform 4 to arriving back again will take around one and a half hours.
Santa has named our 1950s railway carriages after his favourite Reindeer and they are called 'Rudolph', 'Blitzen', 'Dasher', and 'Prancer'. Seats are booked at tables, whereby we always try to seat everyone together. The most important thing is that we'll do our best to provide all of the traditional elements of our Santa experience: the steam train ride to visit him at the North Pole station, hot and cold beverages with accompanied mince pies or biscuits when you arrive, and the opportunity to meet Santa in an enhanced experience and for every Child 0-12 years to receive their all-important first present from Santa!
Additional sandwiches, hot sausage rolls, crisps, snacks, and warmed alcoholic punch (mulled wine) may also be purchased on the day from the Station Café at the North Pole station. You may also find some last minute presents for purchase in our Station Shop.
We've had to increase our prices a tad for this year, although we have an 'early season' special with £3 off per person on the first three days. Christmas comes but once a year and we want to make it a truly memorable occasion - Santa says we really want you to have a great time and enjoy that festive feeling. Our volunteers look forward to welcoming you and your family onboard!
Quick Details
Peak Season dates: 03, 09, 10, 16, 17, 21, 22, 23 December 2023 - Adult/Senior or Child 1-12 years £25 per person.
Train departure times and duration: Princes Risborough departures at 10.30, 12.30, 14.30, duration approximately 1 hour 35 min.
Departure location: Santa Steam Specials depart from (and return to) Platform 4, Princes Risborough Station, Buckinghamshire HP27 9DN.
Car Parking: Chiltern Railways Pay-and-Display at the station (SatNav HP27 9DN) at the present time on Sat & Sun £5.50, Thur & Fri £8.50.
Buggies and Strollers: must be left on Platform 4 at Princes Risborough, or you may prefer to leave them in your car for added security. Sorry, they cannot be carried on the train.
Presents: Each Child ticket 1-12 years includes a thoughtful present. 'Babes in arms' (under 1 year) do not need a ticket but they will still receive a small gift.
Complimentary refreshments: Mince pies for everyone and a drink of tea / coffee / chocolate or a warm cordial is included in the ticket price and will be served at Chinnor station. Sorry, we are unable to provide for any special dietary needs.
Station Cafe at Chinnor: on sale Hot Mulled Wine £3.50, Large Hot Sausage Roll £2.00, Vegetarian / Vegan Sausage Roll £2.00, Sandwiches in Wholemeal Bread £3.50 (Chicken & Stuffing, Brie & Cranberry, Egg Mayo & Cress, Cheese & Tomato), Chocolate Bars 60p, Cans / Water £1.00, Fruit Shoot 60p, Crisps / Snacks 70p.
Accessibility: wheelchair space is only available in a separate area of the train and is limited to one disabled person and one accompanying carer at the individual seat prices shown above - to book please call 07979 055366.
Booking size: passengers in one booking will be seated together where possible. Tables in our carriages seat 4 people and if your booking is for individual seats in multiples other than 4 people, you may be sharing a table with another family.
Groups: we welcome groups along and will always try to ensure you are sat together, but please note there are NO discounted fares. For bona-fide groups of Brownies, Cubs and similar organisations, we may be able to offer concessions for a limited number of accompanying adults - please enquire via email HERE.
Dogs: unlike some Santa experiences all small pet dogs are welcome to travel on our Santa Special trains, but they must be kept on a short lead and are not allowed on the seats - please bring a blanket for them to sit on. However, we are sorry that due to hygiene and other considerations, dogs (except Assistance / Guide dogs) cannot be taken into Santa's Grotto.
Booking information
Most trains are now fully booked - see below. For those shown with VERY LIMITED AVAILABILITY please call 07979 055366 between 10.00 and 16.00 hours.